About Us
Escape into the northern east part of Bali and discover the breathtaking landscape of the Mt. Batur Caldera. At Toya Devasya Natural Hot Spring & Camping Resort we let you enjoy the panoramic beauty of Lake Batur a little bit closer.
An infinity hot spring pool sitting on the edge of Lake Batur combined with the majestic panorama and the fresh mountain air will leave you feeling relaxed and rejuvenated. Sit back and indulge in our by-the-lake dining renowned for the creative use of local produce.
Challenge yourself in one of our adventure activities that takes you a little bit closer to nature or experience camping under the moonlight stars. We hope you have a different experience of Bali here at Toya Devasya. Contact us for suggestions of activities and services.
Natural
Hotspring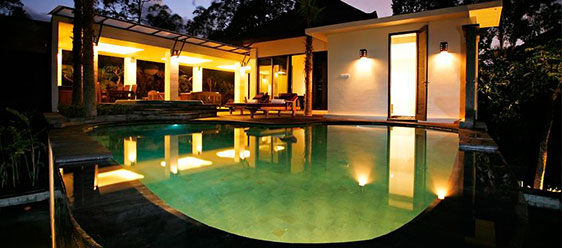 Balinese has its own local wisdom called 'Tri Hita Karana'. This term was initiated on November 11, 1966, during Konferensi Daerah I Badan Perjuangan Umat Hindu Bali which took place at Perguruan Dwijendra Denpasar. Since then, the life philosophy has become popular and spread throughout Bali. 'Tri Hita Karana' is derived from Sanskrit language: Tri (three), Hita (prosperous), Karana (cause). With this philosophy, human are encouraged to keep the harmonious balance of the relationships between human to God (Parhyangan), human to human (Pawongan), and human to environment (Pelemahan), in order to achieve the true happiness.
The Ayu's presence answers demand for an eco-friendly private luxury villa with the application of Tri Hita Karana. Combining spiritual and contemporary aspects, the design and development of the villa with its 14 suites was ascertained from the beginning to follow soil contour without sacrificing the existence of surrounding trees. The harmonization with nature is completed with private pool drained with water coming from natural hot spring that is believed for centuries to have the ability of therapeutic healing. Legend has it that King Pemecutan always meditated and bathed in natural hot spring at this location for a month and seven days every year to rejuvenate his physical and mental condition.
Green
Commitment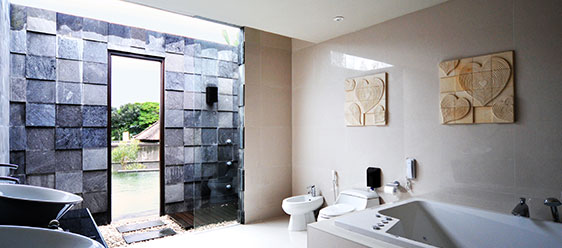 Natural hot spring is one of the greatest nature's blessings. The spring is formed when water gets heated by geothermal energy and emerges onto the earth's surface after making its way through the rocks which are at the interior part of the earth's crust. The water then gathers and pools at places known as hot springs found all over the crust of the earth, one of them located at Toya Bungkah village, Kintamani.
For centuries, ancient Greeks, traditional Native Americans, and Chinese medicines have revealed the miracle of this colourless and odourless water. The heat and subsequent sweating have a deeply cleansing effect on our skin and entire body-mind system. The hot temperature also has benefit of soothing aching muscles. The overall effect of soaking in hot spring tends to be a relaxing one, so unnecessary stress and tension can be dissolved.
Containing specific minerals such as Bromine, Calcium, Fluorine, Sodium, Lithium, Phosphorus, Manganese, Iron, Arsenic, and Radium, hot spring has potential therapeutic advantages in curing illnesses and injuries, and also improving healthiness. Revitalizing effects on cells and tissues, improving blood circulation, purifying the blood by eliminating toxins through sweat, healing chronic respiratory disorders such as asthma, bronchitis, and sinusitis; curing skin conditions like eczema and dermatosis, increasing brain activity and strengthening bones, and treating fungal infections of the foot. Be the next person to discover the astounding power of natural hot spring as you take a comfortable dip.